Training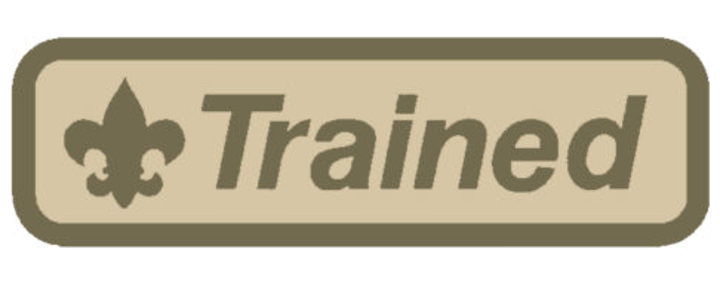 A trained leader is knowledgeable and more confident in the role being performed. Trained leaders exhibit a knowledge and confidence that is picked up by people around them. Trained leaders impact the quality of programs, leader tenure, youth tenure, safety, and a whole lot more. A trained leader is better prepared to make the Scouting program all it can be!
Online training is available at my.scouting.org
You will also find other valuable training resources at scouting.org
**Click on a training to register (when available)
| | | | |
| --- | --- | --- | --- |
| Event | Date | Location | Price |
| | 9/6 – 9/7 | Huron Extension Office | $35 |
| | 10/4 – 10/5 | Newton Hills Scout Camp | $35 |
| Winter IOLS | 11/1 – 11/2 | CANCELLED Madison Area | $35 |
| | 11/9 – 11/10 | Center for Scouting | $100 |
| | 12/7/2019 | Center for Scouting | $15 |
| Trainers EDGE | 2/8/2020 | Center for Scouting | $0 |
| BALOO & IOLS | 3/20 – 3/21 | Lewis and Clark Scout Reservation | $35 |
| | 4/17 – 4/18 | Midwest Bible Camp - Watertown | $35 |
| Sioux Training Academy | 4/25/20 | Mitchell Technical Institute | $25 |
| Wilderness First Aid | 4/25 – 4/26 | National Guard Armory - Mitchell | $100 |
| Wilderness First Aid | 5/2 – 5/3 | Center for Scouting | $100 |
| NYLT | 5/31 – 6/5 | Camp Shetek | $300 |
| | 7/24-26 & 8/8 – 8/9 | Shetek Scout Camp, Currie MN | $300 |
What is it?
BALOO: Every pack that does an overnight campout is required to have at least one "Basic Adult Leader Outdoor Orientation" trained person. This training gives them basic camping skills, planning knowledge and cool ideas of things to do. There is an online portion that you have to take before you attend.
IOLS: To be considered trained as a Scoutmaster or Assistant Scoutmaster this is a required training. "Introductive Outdoor Leader Skills" will take you through Scout to First class outdoor skills that you will be teaching your scouts. It also focuses on youth led programing – the keystone of the scouting program.
Wilderness First Aid: Any unit going to a high adventure base or that does their own outdoor high adventure are required to take this. For national high adventure bases it is required. You have to be First Aid and CPR certified.
Outdoor Ethics: The outdoor ethics guide is a troop position of responsibility that counts for the leadership requirement for Star, Life, and Eagle ranks. Includes how to be successful in the role of Outdoor Ethics Guide and time to practice leading games and discussions related to BSA Outdoor Ethics. We will also discuss the Outdoor Ethics Awareness Awards and others.
Trainers Edge: Formerly known as Train the Trainer, this course provides the knowledge and skills to leaders who wish to help train additional leaders. Whether you're interested in leading a IOLS course, teaching outdoor leadership skills, helping new den leaders, or other training, this course is for you!
Sioux Training Academy: All Pack and Troop Leaders are invited to come for training like Rangemaster (BB guns/Archery), CPR First Aid, Outdoor skills, outdoor cooking, STEM Focused, cub leader trainings, youth tot lot (10 and younger) and working with scouts with extra needs. Full list of trainings will be published by October.
Wood Badge: Wood Badge is a Scouting leadership program and the related award for adult leaders in the program of Scout associations throughout the world. Wood Badge courses aim to make Scouters better leaders by teaching advanced leadership skills, and by creating a bond and commitment to the Scout movement.
NYLT: This is Wood Badge for Youth and will help your troop become truly youth led and give your scouts leadership skills that will help them in their daily lives. The "National Youth Leadership Training" full reimbursement for being a Counselor in Training (CLT) at Lewis and Clark Camp will continue for 2020 Camp Season – both have to be completed in full and without incident.